Emirates ID Data reading Software
Same Application support old and new both Emirate IDs
---
You can get ALAM EID Reader as windows application or as a web based solution with option of your choice to run as standalone application or integrate to your existing system via APIs, DB Connection, or any other medium of your choice.
One time purchase, There is No monthly or yearly subscription
WhatsApp
Call 050 91 87 558
About ALAM EID Reader
ALAM Emirates ID Reader or Scanner software supports old and new both emirates IDs
It can be developed as windows application or a web based solution to integrate in you web application
You will be getting your custom application according to your requirements, instead of generic application which is not 100% as per your requirements
It will be one time purchase, there will be no montly or yearly subscription also there will be no limit for scanning number of cards, More over you will also be able to get technical paid support to tune it up as per your needs in future.
You can run this application as standalone with export features or you can integrate it to your existing System
Integration and/or Export
We have integrated it to below till now and tested on windows 7,8,10 & 11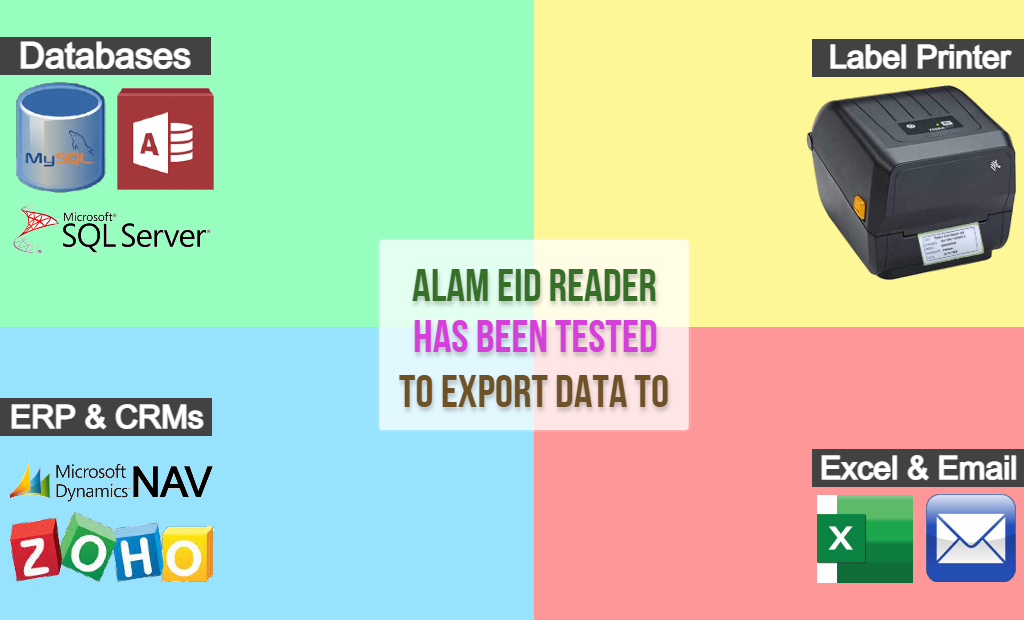 Direct Database
It can be directly connected to below database and also tested.
MS SQL Server
MySQL
MS Access
We can integrate to any other system or export to any other format of your choice.
Pricing
| | | |
| --- | --- | --- |
| Licenses | Feaures | Price |
| 1 PC License | All | $ 250.00 |
| 2 PCs License | All | $ 350.00 |
| 3 PCs License | All | $ 430.00 |
| 4 PCs License | All | $ 470.00 |
| 5 PCs License | All | $ 500.00 |
NOTE
In above price there is no installation, Configuration or support charges included.
If any support or modifications are required you can reach us at contact-us page.
Hardweare Device Recommendations
Many people are contacting me to suggest them better Devices, So I am putting all related devices which I personally tested and found relaiable.
Emirates ID Reading Device
I have tested several devices with old and new Emirates IDs, for you I will recommend the one which support both old new Emirates IDs and also relaiable.
You can purchase from Amazon.ae This Device.
Zebra ZD220 Label Printer
I have tested this application with label printers for a Medical laboratory, it was Zebra ZD220 Label Printer.
You can purchase it from Amazon.ae This Printer.
Why choose us
ALAM Emirates ID Reader software is best and unique because of below features.
Only One Time Payment
Unlike others there is no monthly or yearly subscription, nor there is any limit on scans.
Pay only once and it is yours for lifetime, and you can use without any fear.
Custom App for you only
We will develop a custom application for you 100% based on your requirements not like a generic application which do not cover all your requirements
Future Support
I can give paid support anytime to make your upcoming modifications if needed, while generic applications are not only for you so those you can not modifiy as per your needs.
Our clients
Below are some of our happy clients
Abu Dhabi
They are using it for medical purposes in their labs and at oil and gas sites for Covid PCR tests, they are printing labels through Zebra ZD220 printer.
Dubai
I have provided web based solution and intefrated into their Medical web application using google chrome extension and console application
Dubai
They are ZOHO CRM developers and Support providers, For them I have integrated to ZOHO via APIs and send data to ZOHO either as new or old Contact.